Thanks for stopping by 🖤
So many new things for 2023!
Here's a summary of the latest from BlackHeart Bike Company.
If you have any questions or would like to request a test bike for review, email us at hello@blackheartbikeco.com.
For our new road-specific model, we didn't want to just make an iteration of our Allroad bike, which echos classic road bike design, but rather fully embrace modern road bike aesthetic.
The geometry is sharp, it's slippery through the wind, and the ride is smooth and snappy.
It also shows off the new BlackHeart branding that will be carried forward on all new production runs.
It's everything a modern road bike should be with a heart of titanium.
Fully integrated cables
Electronic only
One-piece carbon cockpit
Carbon fork and seatpost
Aero downtube
Flared top tube
Dropped seatstays
32mm tire clearance
T47 bottom bracket
SRAM UDH
9 sizes to fit more riders better
Frameset w/ carbon fork and seatpost = $3,000
Frameset w/ carbon fork, seatpost, and integrated handlebar = $3,300
SRAM Force AXS build w/ Hunt 44 Aerodynamicist carbon wheelset = $7,100

Everyone knows Classified by now and although "save the front derailleur" is trending, many believe the writing is on the wall.
We're excited to announce that Classified x Hunt wheels will be available on all BlackHeart Allroad Ti and Road Ti bikes.
Classified equipped bikes will carry a $550 premium over their front derailleur shod counterparts.
Build example: Allroad Ti w/ SRAM Force AXS
Hunt 40 Carbon Gravel Race wheelset
$7,350
Classified x Hunt 40 Carbon Gravel Race wheelset
$7,900
Available starting May 2023.
Called "The perfect bike for whole lot of riders" by Bicycling Magazine, we had two examples of our Allroad AL bike on display.
A SRAM Force/X01 AXS build that is slated for our newest ambassador, Jess Meany.
And the bike we consider the best value in our line up, a SRAM Rival AXS build with Hunt Carbon Gravel 35 X-Wide wheels, which retails for $4,400.
With a carbon-like ride, but with the durability of aluminum, the Allroad AL is simply the perfect allroad bike.
Poking around the booth was BlackHeart founder Zach Lambert's personal Allroad ALt.
After moving the company from Venice Beach to Truckee, CA a year ago the flowy single track trails of Tahoe were screaming for something a little more playful.
Thus the Allroad ALt was born – a flat bar, mullet build with the biggest 650b tires he could squeeze in.
For those looking to ride like a kid again, it's a time[warp] machine.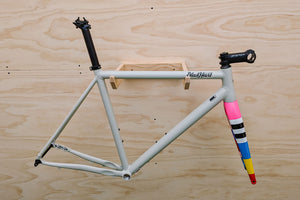 Our custom paint program, expanded
Known by the online moniker savethepostalservice, Dr. Curtis Bullock has been applying his signature abstract artwork to bikes for years.
After being introduced, it quickly became clear that we share the same mission of making cycling more welcoming and inclusive.
For 2023, we're stoked to offer his artwork as part of our custom fork paint program along with MPH Paint and our BlackHeart Signature designs.